Three Cities Sue Military to Keep Guns From Domestic Abusers
Author: Adam Skaggs.
Source: Volume 23, Number 04, April/May 2018 , pp.51-54(4)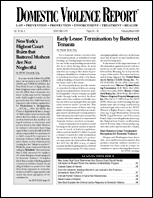 < previous article |next article > |return to table of contents
Abstract:
For decades, the U.S. military has failed to submit records of service members legally prohibited from owning guns into the national criminal background check system designed to keep guns out of dangerous hands. To make sure that members of the military convicted of domestic violence or other prohibiting crimes are no longer able to pass background checks and buy guns, New York, Philadelphia, and San Francisco sued the Department of Defense on December 26, 2017. This article examines the factual and legal basis for these suits.
Keywords: National Instant Criminal Background Check System (NICS); Inspector General of the Department of Defense

Affiliations: 1: Giffords Law Center to Prevent Gun Violence.