Case Summaries
Author: Anne L. Perry.
Source: Volume 22, Number 04, April/May 2017 , pp.59-61(3)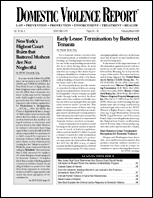 < previous article |next article > |return to table of contents
Abstract:
Our regular review of important court decisions, cases reviewed include: On an attempted murder charge, a jury finds Pullum guilty of the lesser included offense of voluntary manslaughter and imposes a sentence enhancement for great bodily injury after he severly beats his partner; in Georgia a felony murder conviction is reversed for instruction on voluntary manslaughter for a separated husband who breaks into his wife\'s new residence, kills her new boyfiend, then attacks the wife and her mother; a Dominican citizen in Vermont pleads guilty to felony domestic assault stemming from an incident in which he tried to strangle his girlfriend and risks deportation.
Keywords: People v. Pullum; Clough v. State; State v. Mendez

Affiliations: .