Sheltering Animals and Families Together
Author: Allie Phillips.
Source: Volume 22, Number 04, April/May 2017 , pp.57-60(4)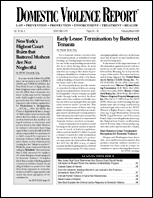 < previous article |next article > |return to table of contents
Abstract:
The bond between animals and humans becomes more pronounced every year but when a family with pets is experiencing violence, domestic violence shelters are now faced with a new and different struggle. This article will address the growing need to assist families with companion animals, and discuss the solution of the Sheltering Animals & Families Together (SAF-T)™ Program which is the first and only global initiative working with domestic violence shelters to house companion animals on-site.
Keywords: "link-related" crimes; furry and feathered children; Pets positively impact physical health and reduce stress; less than half of shelters routinely ask families about pets; barrier to safety; children exposed to animal abuse; partner with animal

Affiliations: 1: Sheltering Animals & Families Together (SAF-T)™.