Financial Intimate Partner Violence: When Assets and Transactions Become Weapons
Author: Jo Carrillo.
Source: Volume 22, Number 02, December/January 2017 , pp.17-22(6)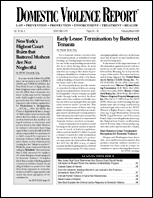 next article > |return to table of contents
Abstract:
This article addresses financial interpersonal violence, which occurs when an asset (like money) or a transaction (like a loan, a sale, or a bank withdrawal) is used by an intimate partner as a weapon against the other partner.
Keywords: Weaponized assets; fault-based divorce; fraudulent title documents, debt, and conveyances; marriage and dissolution protections; protective orders; California Domestic Violence Prevention Act; ex parte restraining order

Affiliations: 1: Hastings College of Law.