Property Damage in the Domestic Violence Context
Author: D. Kelly Weisberg.
Source: Volume 22, Number 02, December/January 2017 , pp.17-20(4)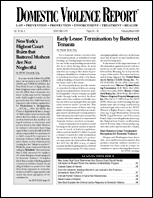 < previous article |next article > |return to table of contents
Abstract:
Property damage is a common form of intimate partner violence. Despite the prevalence of this form of abuse, the literature has largely ignored this topic. This article will explore the nature of this form of abuse and the legal remedies that address it.
Keywords: property destruction; power and control; Vehicular damage; property that has unique personal value; criminal mischief; malicious mischief laws

Affiliations: 1: Hastings College of Law.