Case Law Summaries
Author: Anne L. Perry.
Source: Volume 22, Number 01, October/November 2016 , pp.7-10(4)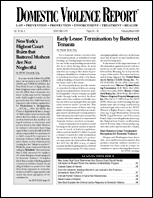 < previous article |next article > |return to table of contents
Abstract:
Cases reviewed include: Supreme Court of Wyoming rules that a defendant convicted of multiple sex crimes is not entitled to new trial based on victim's recantation; the Eleventh Circuit determines that a "wrongfully removed" child in a contentious custody battle need not be returned under Hague Convention; on the opposite side of the coin the Second Circuit determines that a child ordered returned where no grave risk is found under Hague Convention, but the abused mother need not pay costs; a father argues that the custody statute unconstitutionally infringed on his fundamental right to parent his children, the court disagrees.
Keywords: Lindstrom v. State , 343 P.3d 792 (Wyo. 2016); Gomez v. Fuenmayor , 812 F.3d 1005 (11th Cir. 2016); Souratgar v. Fair , 818 F.3d 72 (2d Cir. 2016); D'Costa v. D'Costa , 2016 WL 363474 (Minn. Ct. App. 2016)

Affiliations: 1: Contributing Editor.