Supreme Court Rules That "Reckless" Abuse Disqualifies Persons From Gun Possession
Author: Lindsay Nichols.; Ari Freilich.
Source: Volume 22, Number 01, October/November 2016 , pp.3-4(2)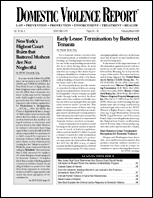 < previous article |next article > |return to table of contents
Abstract:
This article explores a case resulting in a decision by U.S. Supreme Court ruling supporting federal legislation banning the purchase or possession of firearms by convicted domestic abusers extends to individuals convicted of crimes involving the intentional, knowing, or reckless use of physical force against a family member.
Keywords: Voisine v. United States , 136 S.Ct. 2272 (2016); mens rea; Lautenberg Amendment; United States v. Hayes , 555 U.S. 415 (2009); United States v. Castleman , 134 S. Ct. 1405 (2014)

Affiliations: 1: Law Center to Prevent Gun Violence; 2: Law Center to Prevent Gun Violence.