National Survey of Restraining Order Cases
Author: Annie L. Perry.
Source: Volume 21, Number 06, August/September 2016 , pp.95-98(4)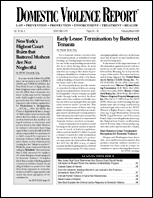 < previous article |next article > |return to table of contents
Abstract:
A summary of important appellate rulings from around the country focused on the terms of orders of protection. Some states permit non-expiring orders while others require the DV victim to return to court to keep protection in place. This column reviews an important Minnesota Supreme Court ruling that upheld a district court order to extend the terms of several OFPs for fifty years, and similar decisions in California and New York.
Keywords: Rew v. Bergstrom; Cueto v. Dozier; Liu v. Yip; Matter of Clovis v. Clovis; Arita v. Goodman; People v. Lassitter

Affiliations: 1: Contributing Editor.