Complete Issue
Author: D. Kelly Weisberg.
Source: Volume 21, Number 06, August/September 2016 , pp.89-108(20)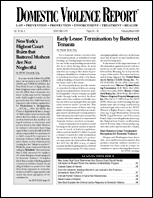 < previous article |return to table of contents
Abstract:
The second of two special issues devoted to lethality assessment and guest edited by Jill Messing, Associate Professor in the School of Social Work at Arizona State University. As a social worker and a researcher, Messing is testing and developing versions of the Danger Assessment for specific interventions and populations, including culturally appropriate risk assessments. This issue delves deeper into the issue of lethality assessment by continuing our discussion of the use of risk assessment to support asylum claims based on domestic violence and in work with perpetrators in batterers' intervention programs. This issue also attends to the specific risk factor of intimate partner sexual violence, and examines how women's stories of their abuse connect issues of sexual and homicide risk. Finally, when examining re-arrest as an outcome (instead of lethal violence), advanced statistical methods may assist in making accurate determinations about domestic violence risk.
Keywords: Lethality assessment in domestic violence

Affiliations: 1: Hastings School of Law.