Complete Issue
Author: D. Kelly Weisberg.
Source: Volume 21, Number 03, February/March 2016 , pp.33-48(16)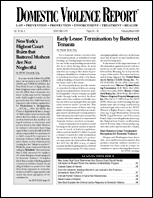 < previous article |return to table of contents
Abstract:
We are pleased to present the first of two special issues on Police and Domestic Violence. Articles in this issue address the dual elements of "batterers in blue" and the police response to victims. The two topics are, in reality, intertwined because the police response is influenced by many factors, not least of which is the fact that some abusers are police offi cers. To achieve safety and ensure justice for victims, it is essential that we hold all abusers accountable, especially those who are charged with the duty to protect. This is the complete issue, Volume 20 Number 3. It includes the full text of all the articles listed above, with hyperlinks from table of contents entries to articles and linked article continuations, to facilitate reading.
Keywords:

Affiliations: 1: Journal Editor, DVR.