Reducing Officer-Involved Domestic Violence: What Works?
Author: David Martin.
Source: Volume 21, Number 03, February/March 2016 , pp.39-42(4)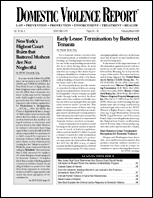 < previous article |next article > |return to table of contents
Abstract:
While police-involved domestic violence is a problem, the role of law enforcement remains a key to reducing domestic violence as part of the critical first level of response. The critical systemic question addressed here is what works to reduce officer-involved domestic violence. Examples for developing a multipronged strategy in Florida and Washington are cited as well as recommondations for training and policy.
Keywords: IACP Model Policy; Florida Law Enforcement Families Partnership; Crystal Judson Domestic Violence Protocol Program

Affiliations: 1: King County Prosecuting Attorney in Seattle, Washington. .