Complete Issue
Author: D. Kelly Weisberg.
Source: Volume 21, Number 01, October/November 2015 , pp.1-16(16)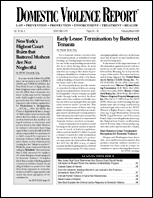 < previous article |return to table of contents
Abstract:
This special issue, Volume 20 Number 1, of DVR focuses on some victims who are most difficult to see–such as transgender survivors, prostitutes, victims of sex trafficking, and the elderly. It thereby attempts to shed light on aspects of the problem that have been shrouded in secrecy for far too long. It includes the full text of all the articles listed above, with hyperlinks from table of contents entries to articles and linked article continuations, to facilitate reading.
Keywords: "Hidden Victims of Intimate Partner Violence."

Affiliations: 1: Editor, Domestic Violence Report.