Case Summaries
Author: Anne L. Perry.
Source: Volume 21, Number 01, October/November 2015 , pp.9-10(2)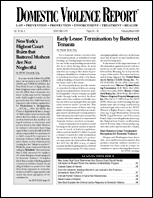 < previous article |next article > |return to table of contents
Abstract:
Cases reviewed include: the United States Supreme Court analyzes whether felons have the right to transfer firearms after conviction, the Supreme Court of New York rightfully determines that a Mother's decision to permit the child to have contact with a parent who was subject to a protection order does not constitute child neglect, and the Supreme Court of Iowa considers Confrontation Clause principles ina case where the victim recants her statements against the accused.
Keywords: Henderson v. U.S. , 135 S. Ct. 1780; In re Abbygail H.M.G. , 10 N.Y.S.3d 326; State v. Tompkins , 859 N.W.2d 631

Affiliations: 1: Contributing Editor of DVR.