The Impact of Socioeconomic Status in the Decision of Domestic Violence Victims to Call the Police
Author: Megan Miller.
Source: Volume 20, Number 03, February/March 2015 , pp.41-42(2)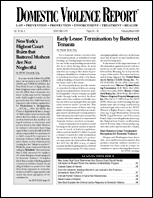 < previous article |next article > |return to table of contents
Abstract:
What factors influence whether or not the victim of a domestic violence incident reports the event to police? Sociologists Jeffrey Ackerman and Tony P. Love have attempted to tease apart the influence culture and socioeconomic have on whether victims call the police, in their recent article, "Ethnic Group Differences in Police Notification About Intimate Partner Violence."
Keywords: help-seeking behavior; household income; highest educational level; highest occupational prestige score; cultural variation; presence of a weapon

Affiliations: 1: student, Hastings College of the Law.