Case Summaries
Author: Anne L. Perry.
Source: Volume 20, Number 03, February/March 2015 , pp.39-41(3)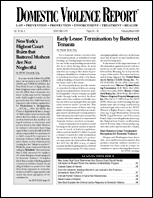 < previous article |next article > |return to table of contents
Abstract:
This column summarizes and discusses recent court cases of interest to readers of DVR, including: In re Marriage of Fajota , 179 Cal. Rptr. 3d 569 (Ct. App. 2014); K.A. v. T.R. , 18 N.E.3d 1107 (Mass. App. Ct. 2014); Remick v. Martin , 103 A.3d 552 (Me. 2014)
Keywords: presumption against joint custody; not in the best interests of the child to grant custody to an abusive parent; Batterer's Intervention Program

Affiliations: 1: Contributing Editor of DVR.