Medical Protocols Needed to Establish Paternity of Children Born Out of Wedlock
Author: Staff Editors.
Source: Volume 01, Number 01, October/November 1995 , pp.10-11(2)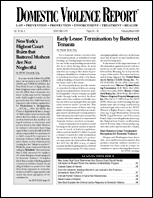 < previous article |next article > |return to table of contents
Abstract:
On December 23, 1994 the Federal Register promulgated 45 CFR Parts 301- 305 as final regulations mandating that every hospital and birthing center in America have an expedited process for establishing the paternity for any child of unmarried parents born in its facility. Under the regulations, the hospital must counsel each mother and, if possible, father of every child born out-of-wedlock to tell them the advantages of establishing paternity of the child and to enable each of them to sign and have notarized an affidavit for establishing paternity. Although the regulations make the process voluntary, they do not provide hospitals and birthing centers with any guidance on what they are to do to protect battered women and their children from actual and likely further violence from their abusive partners who fathered their children. This article discusses when paternity should and should not be established.
Keywords: paternity as related to domestic violence

Affiliations: .