Expert Testimony on Battered Women
Author: Julie Blackman, Ph.D..
Source: Volume 01, Number 01, October/November 1995 , pp.5-5(1)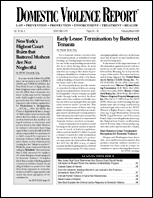 < previous article |next article > |return to table of contents
Abstract:
Expert testimony on battered women has drawn significant attention from psychologists, lawyers, judges and legislators over the last twenty years. The admissibility of expert testimony, often a debated issue at trials involving battered women, has become increasingly commonplace. Unresolved, however, beneath the ever widening acceptance of expert testimony, is (1) the specific content of that testimony and (2) the proper roles for psychologists in the courtroom. The author discusses personal involvement regarding these issues.
Keywords: Lenore Walker; Brooklyn Judiciary; Weekend Roundtable in Washington

Affiliations: 1: social psychologist.