Complete Issue
Author: Joan Zorza, Esq..
Source: Volume 02, Number 01, October/November 1996 , pp.1-16(16)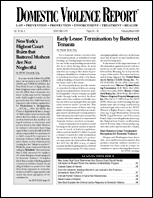 < previous article |return to table of contents
Abstract:
This is the complete issue, Volume 2 Number 1. It includes the full text of all the articles listed above, with hyperlinks from table of contents entries to articles and linked article continuations, to facilitate reading.
Keywords: Food Stamp and Supplemental [Social] Security; Wellstone/Murray Amendment; Jody Raphael; Taylor Institute of Chicago; Senator Kay Bailey Hutchinson; Health Insurance Portability and Accountability Act; Lautenberg Amendment; Kassebaum/Kennedy Bill; Wo

Affiliations: 1: Editor, Domestic Violence Report.