From the Bookshelf
Author: Staff Editors.
Source: Volume 02, Number 01, October/November 1996 , pp.10-11(2)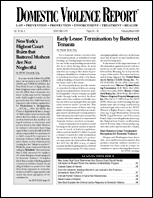 < previous article |next article > |return to table of contents
Abstract:
The following publications are reviewed and discussed: "Protecting the Children in Custody Disputes When One Parent Abuses the Other", by Joan Zorza; "Preventing Violence in America", edited by Robert L. Hampton, Pamela Jenkins and Thomas P. Gullotta; "Violence and the Prevention of Violence", edited by Lenore Loeb Adler and Florence L. Denmark; "No Visible Wounds: Identifying Nonphysical Abuse of Women by Their Men", by Mary Susan Miller; "Getting Away with Murder: Weapons for the War Against Domestic Violence", by Raoul Felder and Barbara Victor.
Keywords: [Joan Zorza's]written testimony before the U.S. Commission on Child and Family Welfare; men's emotional abuse of women; mandatory medical reporting

Affiliations: .