The Natural Limits of Good Ideas
Author: Julie Blackman, Ph.D..
Source: Volume 02, Number 01, October/November 1996 , pp.9-10(2)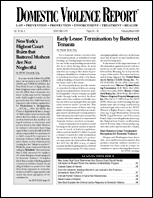 < previous article |next article > |return to table of contents
Abstract:
The feminist response to violence against women has been filled with good ideas with natural limits. From experience, from the real consequences of our good ideas, we can learn their natural limits and seek new good ideas, whose natural limits lie beyond the ones we have now. The author provides a psychological perspective on the phenomenon of battering.
Keywords: victim-blaming; women's agency

Affiliations: 1: social psychologist.