Prosecutor's Use of Expert Testimony on Effects of Battered Women's Syndrome Upheld
Author: Staff Editors.
Source: Volume 02, Number 03, February/March 1997 , pp.39-40(2)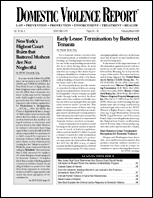 < previous article |next article > |return to table of contents
Abstract:
In the first appellate case in California to address the issue of the use of expert testimony in the prosecution of a batterer, the defendant, Adrian Dillard, was convicted of one count of corporal injury to a cohabitant, Stephanie Dillard. The defendant appealed, arguing that the trial court erred in admitting opinion testimony on battered women's syndrome and in refusing to provide him with an opinion witness to examine the victim to determine whether she actually suffered from battered women's syndrome. [People v. Dillard, 53 Cal. Rptr.2d 456 (1996)]. The defendant's conviction was affirmed by the appellate court; however, the California Supreme Court ordered the case depublished, without further comment. This article deals also with the New Hampshire case of State v. Searles.
Keywords: expert testimony admissible on general effects of BWS

Affiliations: .