The Cycle Goes Round and Round: Creating Batterers
Author: Wanda K. Mohr, Ph. D., R. N..
Source: Volume 03, Number 01, October/November 1997 , pp.5-6(2)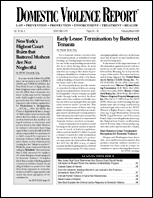 < previous article |next article > |return to table of contents
Abstract:
The focus of study and intervention on domestic violence traditionally has been on the female victim of domestic assault. Yet the children from violent homes are also at risk. This issue is discussed here; various studies are cited.
Keywords: children's perceptions affected by abuse; D. G. Dutton; maladaptive interpersonal relationships

Affiliations: 1: University of Pennsylvania School of Nursing.