Stalking Study Shows That Most Stalking Involves Intimates, Seriously Impacts Victims, and Receives An Inadequate Response
Author: Staff Editors.
Source: Volume 03, Number 01, October/November 1997 , pp.1-3(3)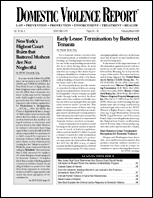 < previous article |next article > |return to table of contents
Abstract:
Having noted that there were no large scale impact studies of victims of stalking, Doris M. Hall attempted to study stalking victims for her doctoral dissertation in Criminal Justice at the Claremont Graduate School in California. She examined questionnaires completed by 145 stalking victims in 20 states. This article summarizes and discuses the results.
Keywords: erotomanic stalkers; types of acquaintance stalkers

Affiliations: .