Five States Hold Criminal Contempt Does Not Bar Later Prosecution on Double Jeopardy Grounds
Author: Anne L. Perry, Esq..; Nancy K.D. Lemon.
Source: Volume 03, Number 02, December/January 1998 , pp.19-20(2)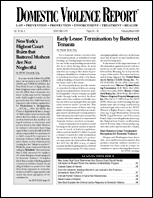 next article > |return to table of contents
Abstract:
Several states have recently concluded that a defendant found guilty for criminal contempt for violation of a restraining order may properly be prosecuted for related offenses without violating the prohibition against double jeopardy.
Keywords: People v. Kelley; Commonwealth v. Burge; State v. Bowen; State v. Gonzales; Blockburger

Affiliations: 1: Associate Editor of DVR; 2: Associate Editor of DVR.