Rethinking Some Criminal Evidentiary Issues Raised in the O. J. Simpson Murder Case
Author: Nancy K. D. Lemon .
Source: Volume 03, Number 02, December/January 1998 , pp.20-21(2)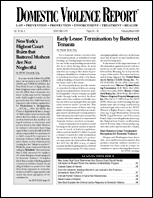 next article > |return to table of contents
Abstract:
Several recent articles have focused on the challenging criminal evidentiary issues presented by prosecuting batterers. Some of these argue for broader use of traditional rules of evidence, others describe newly adopted statutory rules, while still others call for changes in these rules to take into account the special issues presented in domestic violence cases, especially where the victim is uncooperative or dead. Several of the articles use the O. J. Simpson murder trial to illustrate the current problems and possible solutions.
Keywords: hearsay exception; proposed propensity rule; People v. Zack Juvenile in contempt for domestic violence; Souza v. Cochrane; Myrna S. Raeder

Affiliations: 1: Associate Editor of DVR.