Mandatory Reporting of Domestic Violence and Coordination With Child Protective Services
Author: Travis A. Fritsch, M.S..; Kathy W. Frederich, M.S..
Source: Volume 03, Number 04, April/May 1998 , pp.51-52(2)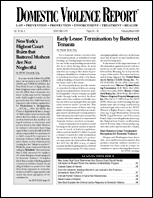 next article > |return to table of contents
Abstract:
For almost 20 years, Kentucky has successfully implemented mandatory reporting of domestic violence to the Department for Social Services (DSS) in exchange for the offer of voluntary protective services. Since 1978, mandatory reporting by "all persons" has been a catalyst for early victim identification and an opportunity for trained DSS adult protection workers to provide information about safety options, legal remedies and community resources.
Keywords: victim safety paramount; benefits of mandatory reporting

Affiliations: 1: Domestic Violence Consulting Services; 2: Families and Children Training Project.