Kentucky Coalition's Concerns About Mandatory Reporting
Author: Sherry Currens.
Source: Volume 03, Number 04, April/May 1998 , pp.49-50(2)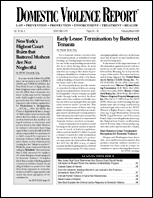 next article > |return to table of contents
Abstract:
Kentucky's mandatory reporting law, in effect since 1978, requires any person having reasonable cause to suspect that an adult has suffered abuse or neglect inflicted by a spouse, to report the abuse to the Department for Social Services (DSS). DSS is then charged with investigating the report and offering services to the victim if it finds that abuse has occurred. Adult victims may decline services. The report is also forwarded to local police. The Kentucky Domestic Violence Association (KDVA), which is the coalition of spouse/partner abuse centers in the Commonwealth applauds the purpose behind Kentucky's mandatory reporting statute, but has both pragmatic and philosophical concerns about the continued application of the law.
Keywords: reporting impedes victims' rights

Affiliations: 1: Kentucky Domestic Violence Association.