VAWA Continues to Withstand Constitutional Scrutiny
Author: Staff Editors.
Source: Volume 04, Number 02, December/January 1999 , pp.23-23(1)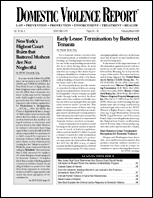 < previous article |next article > |return to table of contents
Abstract:
The United States Courts of Appeals for the Second and Sixth Circuits have joined the growing number of appellate courts upholding the constitutionality of the Violence Against Women Act (VAWA).
Keywords: U.S. v. Von Foelkel, 136 F.3d 339 (2nd Cir. 1998); U.S. v. Casciano, 124 F.3d 106 (2nd Cir. 1997); U.S. v. Page, 136 F.3d 481 (6th Cir. 1998), reh'g granted, 143 F.3d 1049 (6th Cir. 1998)

Affiliations: .