From the Bookshelf
Author: Staff Editors.
Source: Volume 04, Number 02, December/January 1999 , pp.24-25(2)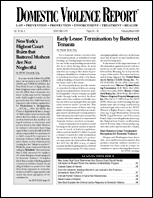 < previous article |next article > |return to table of contents
Abstract:
These recent publications are reviewed: "More Than Victims: Battered Women, The Syndrome Society, and the Law", by Donald Alexander Downs; "Masculinities and Violence", edited by Lee H. Bowker; and "Politics of Masculinities: Men in Movements", by Michael A. Messner.
Keywords: commercials mold behavior; gang rapists and batterers

Affiliations: .