Complete Issue DVR0405
Author: Joan Zorza, Esq..
Source: Volume 04, Number 05, June/July 1999 , pp.65-80(16)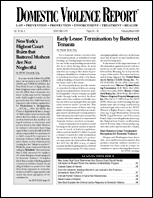 < previous article |return to table of contents
Abstract:
This is the complete issue, Volume 4 Number 5. It includes the full text of all the articles listed above, with hyperlinks from table of contents entries to articles and linked article continuations, to facilitate reading.
Keywords: United States v. Lopez; Ericson v. Syracuse University; Fraternal Order of Police v. United States, 981 F.Supp 1 (1997); Colorado Victims Rights Act; Minnesota Office of the Crime Victims Ombudsman; (Minnesota) OCVO; Wyoming Victim Services Division;

Affiliations: 1: Editor, Domestic Violence Report.