From the Bookshelf
Author: Staff Editors.
Source: Volume 04, Number 05, June/July 1999 , pp.75-76(2)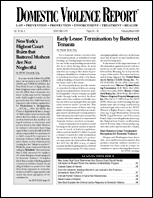 < previous article |next article > |return to table of contents
Abstract:
This column reviews, "The Women's Christian Temperance Union 1874-1898: Combating Domestic Violence", by Erin Masson; "Fatal Families: The Dynamics of Intrafamilial Homicide", by Charles Patrick Ewing; "Sibling Abuse: Hidden Physical, Emotional, and Sexual Trauma, 2nd Ed.", by Vernon R. Wiehe; "Preliminary Report: Availability of Domestic Violence Services for Latina Survivors in New York State", by Jenny Rivera; "Domestic Violence as a Crime Against the State: The Need for Mandatory Arrest in California", by Machaela Hoctor.
Keywords: New York State Spanish Domestic Violence Hotline Advisory Committee

Affiliations: .