Two New Stalking Books
Author: Joan Zorza .
Source: Volume 05, Number 02, December/January 2000 , pp.21-21(1)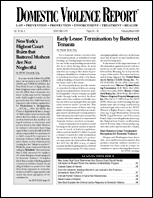 < previous article |next article > |return to table of contents
Abstract:
Joan Zorza reviews and summarizes "I Know You Really Love Me: A Psychiatrist's Account of Stalking and Obsessive Love" (Orion) and J. Reid Meloy, ed. "The Psychology of Stalking; Clinical and Forensic Perspectives".
Keywords: erotomanic; O. J. Simpson

Affiliations: 1: Editor, Domestic Violence Report.