From the Bookshelf
Author: Joan Zorza .; Anne L. Perry.
Source: Volume 05, Number 02, December/January 2000 , pp.20-22(3)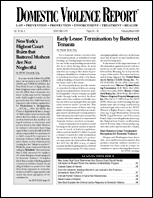 < previous article |next article > |return to table of contents
Abstract:
This column reviews the following publications: "Random Violence: How We Talk About New Crimes and New Victims", by Joel Best; "Domestic Violence Goes to Work", by Stephanie L. Perin; "Addressing Domestic Violence in the Workplace: An Employer's Responsibility", by Jill C. Robertson; "Private Matter to a Federal Offense", by Patricia G. Barnes, Ed.
Keywords: theory of employer liability

Affiliations: 1: Editor, Domestic Violence Report; 2: Assistant Editor of DVR.