Prosecuting an Abuser in the Military
Author: Casey Gwinn, Esq..
Source: Volume 05, Number 02, December/January 2000 , pp.17-19(3)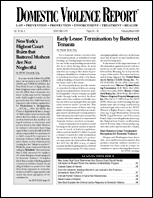 < previous article |next article > |return to table of contents
Abstract:
After careful review, in 1987 the San Diego Police Department and the San Diego City Attorney's Office decided to start prosecuting military domestic violence defendants in the civilian criminal justice system. Prior to 1987, San Diego law enforcement authorities and prosecutors often deferred to a suspect's military command in domestic violence cases. This article focuses specifically upon the Navy defendant and California law.
Keywords: Federal Firearm/Ammunition Provisions; Impact of Guilt on Service Member's Career

Affiliations: 1: San Diego City Attorney.