Employment Rights Advocacy for Domestic Violence Victims
Author: Robin R. Runge.; Marcellene E. Hearn.
Source: Volume 05, Number 02, December/January 2000 , pp.17-21(5)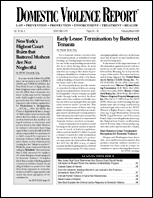 next article > |return to table of contents
Abstract:
Batterers extend their pattern of abuse and control to the workplace by threatening a woman's ability to keep her job, using the employer as an accomplice in their abuse. This article offers a case study and discusses the issue. It includes a boxed sidebar "State Statutes That Prevent Employer from Discriminating Against Abuse Victims".
Keywords: link between domestic violence and employment; Family Medical Leave Act; Fuller v. City of Oakland, 47 F.3d 1522 (9th Cir. 1995); Rohde v. Steel Casings, Inc., 649 F.2d 317 (5th Cir. 1981)

Affiliations: 1: Employment Law Center; 2: NOW Legal Defense and Education Fund.