Connecticut Statutes
Author: Staff Editors.
Source: Volume 33, Number 01, Annual 2021 , pp.28-30(3)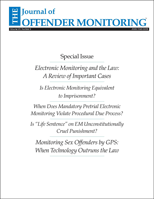 next article > |return to table of contents
Abstract:
Brings together in one place Connecticut statutory provisions citing electronic monitoring as either a sentencing option or requirement. Covers sentencing provisions, the use of electronic monitoring in probation and parole, and tampering and escape.
Keywords: Connecticut Statutes Citing Electronic or GPS Monitoring

Affiliations: 1: Journal of Offender Monitoring.