From the Bookshelf
Author: Staff Editors.
Source: Volume 05, Number 03, February/March 2000 , pp.39-40(2)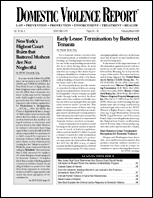 < previous article |next article > |return to table of contents
Abstract:
This column reviews the following publications: "Getting Out: Life Stories of Women Who Left Abusive Men", by Ann Goetting; "Living Between Danger & Love: The Limits of Choice", by Kathleen B. Jones; "Same-Sex Domestic Violence: Strategies for Change", by Beth Leventhal & Sandra E. Lundy, Eds.
Keywords: Andrea O'Donnell; queer domestic violence

Affiliations: .