The Glue That Binds: Deconstruction of Walker's Battered Woman Syndrome
Author: Michelle Elizabeth Robinson, MA.
Source: Volume 05, Number 03, February/March 2000 , pp.33-35(3)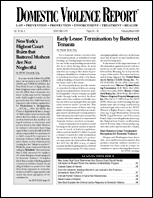 next article > |return to table of contents
Abstract:
This article discusses why women stay in abusive relationships, "deconstructing" models and terminology---the "battered woman syndrome"---developed by Lenore Walker.
Keywords: "battered woman" syndrome as anachronism; "miracle glue" that binds

Affiliations: 1: College of New Caledonia.