An International View of Domestic Violence
Author: Nancy K. D. Lemon .
Source: Volume 05, Number 04, April/May 2000 , pp.53-55(3)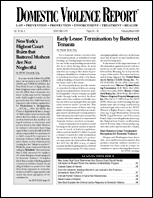 < previous article |next article > |return to table of contents
Abstract:
This article discusses and summarizes several articles subsuming international views of DV, including a panel symposium "Bridging the Gap Between Battered Women's Advocates in the US and Abroad", panelists Carrie Cuthbert and Kim Slot; the articles "Gender and Law: Mexican Legislation on Domestic Violence", by Marta Torres Falcon; "When the Home Is Where the Hurt Is—Domestic Violence in Serbia", by Zorica Mrsevic; and "Law, Politics, And Violence Against Women: A Case Study of Palestinians in Israel", by Nadera Shalhoub-Kevorkian.
Keywords: Women's Rights Network; WRN

Affiliations: 1: Associate Editor of DVR.