Intervention With Abuse of Alcohol, Drugs and Women
Author: Gus B. Kaufman, Jr., Ph.D..
Source: Volume 05, Number 04, April/May 2000 , pp.51-52(2)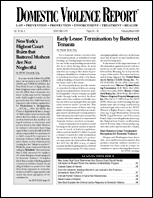 < previous article |next article > |return to table of contents
Abstract:
This article explores the connection between substance abuse of various kinds and battering, and how intervention can be effective.
Keywords: different meanings of "abuse"

Affiliations: 1: consultant and activist.