Court Sentencing Options and Recidivism Among Domestic Violence Offenders
Author: Melissa Gross, MSW.; Elizabeth Cramer, Ph.D..; Jill Gordon, Ph.D..; Tara Kunkel, MSW.
Source: Volume 05, Number 04, April/May 2000 , pp.49-53(5)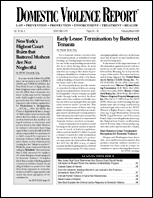 next article > |return to table of contents
Abstract:
During the past two decades, much of the domestic violence literature and research has focused on issues primarily related to the law enforcement response to assaults. More recently, there has been limited research that considers the prosecution and correctional responses to domestic violence. This article is a case study of 216 domestic violence offenders that examines the impact of five sentencing options and focuses on the likelihood that any one of the sanctions will reduce future arrests and convictions. This study is conducted by examining assault and battery (domestic violence cases prosecuted before the Juvenile and Domestic Relations Court in Chesterfield County, Virginia.
Keywords: Sherman, Schmidt, and Rogan; batterer intervention programs

Affiliations: 1: University of Georgia; 2: Virginia Commonwealth University ; 3: Forte, MSW, LCSW.