New Material on Marital Rape
Author: Staff Editors.
Source: Volume 05, Number 06, August/September 2000 , pp.86-87(2)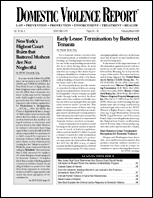 < previous article |next article > |return to table of contents
Abstract:
This column discusses "Violence Against Women, Vol. 5, No. 9" (Sage Publications), a special issue devoted to wife rape and guest authored by Raquel Kennedy Bergen, and "Marital Rape: Is the Crime Taken Seriously Without Co-concurring Physical Abuse?", by Jennifer Langhinrichsen-Rohling & Candice M. Monson.
Keywords: Kathleen Basile

Affiliations: .