Spousal Rape Laws: 20 Years Later
Author: Marnie Rothschild Shiels, Esq..
Source: Volume 05, Number 06, August/September 2000 , pp.85-86(2)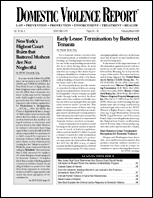 < previous article |next article > |return to table of contents
Abstract:
This article discusses the evolution of state spousal rape laws.
Keywords: spousal exemption

Affiliations: 1: National Center for Victims of Crime.