U.S. Supreme Court Puts Many Grandparent Visitation Laws Into Question
Author: Staff Editors.
Source: Volume 05, Number 06, August/September 2000 , pp.84-85(2)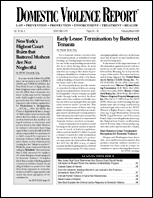 < previous article |next article > |return to table of contents
Abstract:
On June 5, 2000 the United States Supreme Court by a vote of 6-3 affirmed a decision of the Washington Supreme Court that had struck down that State's grandparent visitation law. Troxel v. Granville, No. 99-138. However, it refused to tackle the issue of whether it is unconstitutional for courts to order grandparent visitation over the objection of a custodial parent who is not unfit, although language in the decision suggested that this made the law impermissible.
Keywords: Justice Kennedy's dissent

Affiliations: .