Review of New York Symposium on Domestic Violence
Author: Nancy K. D. Lemon .
Source: Volume 06, Number 01, October/November 2000 , pp.5-9(5)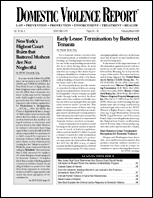 < previous article |next article > |return to table of contents
Abstract:
This column discusses the conference on domestic violence held at Fordham Law School in New York City April 26-27, 1999.
Keywords: "Women, Children, and Domestic Violence: Current Tensions and Emerging Issues"; legal system threat to battered women; amendments to VAWA; Restraining Orders for Lesbian Mothers; UCCJA; UCCJEA; PKPA; immigrant battered women; family violence opti

Affiliations: 1: Associate Editor of DVR.