New Understandings About Women, Welfare and Abuse
Author: Joan Zorza.
Source: Volume 06, Number 01, October/November 2000 , pp.3-5(3)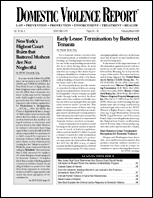 < previous article |next article > |return to table of contents
Abstract:
This column reviews the following publications: "Saving Bernice: Battered Women, Welfare, and Poverty", by Jody Raphael; "Dangerous Indifference: New York City's Failure to Implement the Family Violence Option" (a joint research project of NOW Legal Defense and Education Fund, the Civil Division of the Legal Aid Society, the Women, Welfare and Abuse Task Force, and the Urban Justice Center), by Marceline E. Hearn; "'Some Days Are Harder Than Hard': Welfare Reform and Women With Drug Convictions in Pennsylvania", by Amy Hirsch; "Battered Women, Children, and Welfare Reform: The Ties That Bind", edited by Ruth A. Brandwein; "Lives on the Line: American Families and the Struggle to Make Ends Meet", by Martha Shirk, Neil G. Bennett & J. Lawrence Aber.
Keywords: welfare reform makes it much harder for battered women to become free of their abusers; Jason Turner; Commissioner of New York City's Human Resources Administration

Affiliations: 1: Editor, Domestic Violence Report.