Mandated State Interventions; Evan Stark's Response
Author: Staff Editors.
Source: Volume 06, Number 01, October/November 2000 , pp.1-2(2)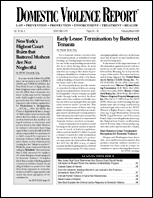 < previous article |next article > |return to table of contents
Abstract:
[This is Evan Stark's response to the previous article].In her reply, Linda Mills retreats from the provocative theme of the Harvard Law Review article on which my review focused, that mandated state interventions are a form of "violence" that parallel battering, and contribute to "killing" abused women, particularly black women, albeit "softly." Here she argues that blanket mandates in domestic violence cases are simply "inappropriate" and "may" be racist in their effects. She grants, I take it, that little or no empirical evidence indicates that aggressive arrest and prosecution strategies are actually harmful, but now concludes that mandatory interventions "do not necessarily reduce...domestic violence." However, criminal justice policies have almost certainly contributed to the dramatic drop in the most severe forms of partner violence in recent years, particularly against black men.
Keywords: mandated medical reporting

Affiliations: .