Complete Issue
Author: Joan Zorza .
Source: Volume 06, Number 02, December/January 2001 , pp.17-32(16)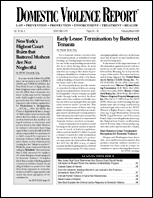 < previous article |return to table of contents
Abstract:
This is the complete issue, Volume 6 Number 2. It includes the full text of the articles listed above, with hyperlinks from table of contents entries to articles and linked article continuations, to facilitate reading.
Keywords: Friedrich; Blondin v. Dubois; Tabacchi v. Harrison, 2000 WL 190576 (N.D. Ill. 2000); Dalmasso v. Dalmasso; Nancy Lemon; Wanda Mohr; Helene Berman; Child Witness to Domestic Violence Project of the Boston (MA) Medical Center; Jewish-Israeli couples; ï

Affiliations: 1: Editor, Domestic Violence Report.