New Research on Child Witnesses of Domestic Violence
Author: Staff Editors.
Source: Volume 06, Number 02, December/January 2001 , pp.19-21(3)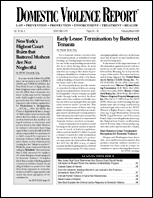 < previous article |next article > |return to table of contents
Abstract:
Many new materials are being released on how domestic violence affects children. The studies have some surprising results about battered women and how they parent and the consequences for children. Specifically, not all children who witness domestic violence show adverse effects, calling into question the presumptions of some child protection workers that witnessing domestic violence always harms children. This article discusses some of this material: "Children Exposed to Marital Violence: Theory, Research, and Applied Issues", edited by George W. Holden, Robert Geffner and Ernest N. Jouriles; "Children Exposed to Domestic Violence", edited by Robert A. Geffner, Peter G. Jaffe and Marlies Sudermann; "Domestic Violence and Children"; "Domestic Violence & Children: Creating a Public Response", by Susan Schechter and Jeffrey L. Edleson; "Children Who Witness Violence: The Hidden Victims," by Betsy McAlister Groves.
Keywords: Nancy Lemon; Wanda Mohr; Helene Berman; Child Witness to Domestic Violence Project of the Boston (MA) Medical Center

Affiliations: .