Mills on Mandates, Reel Two
Author: Linda G. Mills.
Source: Volume 06, Number 02, December/January 2001 , pp.17-18(2)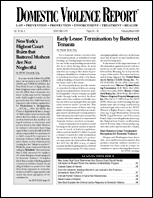 < previous article |next article > |return to table of contents
Abstract:
Obviously, the debate about mandatory interventions evokes passion, anger, and frustration. Evan Stark's response (6 (1) DVR (Oct./Nov. 2000)) highlights the constantly shifting terms of the debate—depending on who is arguing them—and the emotion that accompanies this challenging subject. The fact that the debate is so fervent suggests that there is uncertainty about how to proceed. It is this uncertainty, even confusion, that fuels the author's desire to call for reflection and more research on the effectiveness of mandatory responses before we proceed with a policy that has already been proven to harm some women. This is a first-person and personal article on the subject.
Keywords: mandatory interventions may be racist; autonomy and empowerment

Affiliations: .